Interior design plays a big role in the everyday life. It introduces people to beauty, relaxation, and modernism. Interior design is an important feature that is given high attention all over the world and also when looking to buy a house in Ethiopia. People's interest in having a nice and attractive design for private and public buildings is increasing.
These are some of the interior design styles used by most designers of this age:
Modern
Modern is a broad design term that typically refers to a home with clean, crisp lines, a simple color palette, and the use of materials that can include metal, glass, and steel.
This design employs a sense of simplicity and is commonly described as sleek, and there is not a lot of accessories involved with a modern style.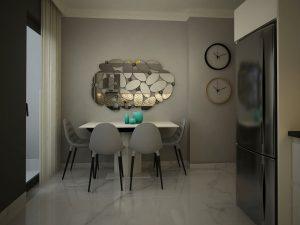 Minimalist
The minimalist concept takes notions of modern design and simplifies them further.
Color palettes are neutral and airy; furnishings are simple and streamlined, and nothing is excessive or flamboyant in accessories or décor. Minimalism is ultimately defined by a sense of functionality and cleanliness.
Traditional
Traditional design style offers classic details, sumptuous furnishings, and an abundance of accessories. It is rooted in cultural sensibilities.
Traditional homes often feature dark, finished wood, rich color palettes, and a variety of textures and curved lines. Furnishings have elaborated and ornate details and fabrics. There is depth, layering, and dimensionality within most traditional designs.
Industrial
It is a look that hearkens back to the turn-of-the-century industrial era. It emphasizes the liberal use of exposed steel with distressed wooden elements, frequently complemented by exposed brick walls. The modern variant commonly includes copper-tone accents. In terms of general feel, industrial decor is often rustic and mature.
Metropolitan real estate PLC, is an American-owned Real estate building, building quality homes in Ethiopia to fulfill the needs of luxury real estate for sale and rent in Addis Ababa and all of Ethiopia.
Let us connect today, on Metropolitan Real estate, which has multiple ongoing projects such as Metropolitan Central Tower Luxury Apartments are around AU headquarters. Metropolitan Westview Standard Apartments located at Total Soset kuter Mazoriya. If you are ready to begin your journey on the way to becoming a homeowner, please contact us with the Ethiopian office: +251973404040 and USA office: +1 480 280 2242.