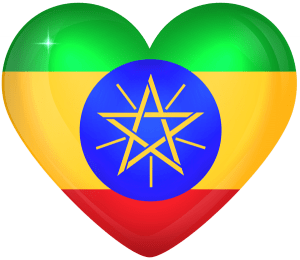 Ethiopia is Africa's oldest independent country.
It was a founder member of the United Nations and the African base for many international organisations and served as a symbol of African independence throughout the colonial period.
It has a unique cultural heritage, being the home of the Ethiopian Orthodox Church – one of the oldest Christian denominations.
There're many reasons for Ethiopians to be bonded to their country from heart. Below you may find 6 reasons why they are proud of their country;
1) History
It is the only African country never to have been brought under colonial control. In 1935 the Italians succeeded in militarily occupying the country for six years, but Ethiopian forces were waging military opposition the entire time and the whole country was never brought under control. The history of Ethiopia also includes hominid ancestors, stone age hunter-gatherers, emperors, invaders, castles, palaces and so much more!
2) People
Ethiopian people are beautiful, proud, hospitable and very kind. There is a great cultural and ethnic diversity in Ethiopia with more than 80 languages spoken. Family time and also relationships with relatives are very important. Also, it is a country where Islam and Orthodox Christians live in harmony.

3)Food
Ethiopian food is simply delicious. Ethiopian cuisine generally consists of vegetables, spicy meat dishes, and bread. And, unlike many African countries, it's a haven for vegetarians. Ethiopian cooking is some of the tastiest, healthiest and most diverse cuisine on the continent.

4)Coffee
Ethiopia is considered to be the birthplace of the coffee plant and of coffee culture. Coffee is said to be discovered in the ninth century. One common Ethiopian coffee saying is "Buna dabo naw" means "coffee is our bread". Nothing matches the taste of Ethiopian coffee and the ceremony behind the taste makes for the best cup of coffee you will ever have.

5)Natural Beauty
Ethiopia has a spectacular beauty which is raw, ever-changing and full of wonders on a grandiose scale. From the craggy peaks and valleys of the Simien Mountains and the vast expanse of Lake Tana, to the sprawling city of Addis Ababa and the arid plains of the Omo Valley, it's hard to find another country that offers more spectacular contrasts than Ethiopia does. Also, the soil is very fertile and rich. The air is clean, fresh and cool because of the elevation.
6)Climate
Ethiopia's climate, particularly in the highlands is ideal and very comfortable year-round. Also, the weather is extremely convenient to live and adapt, the temperature approximately around 25–30 degrees in summer ( May-August) Each season has Ethiopia weather conditions that may favor some aspects while being less favorable to other highlights. As a result, you can enjoy Ethiopia at any time of the year.
If you are also bonded at the heart to this beautiful country just like us, we have an offer for you so that you may think of making a good investment or living in Metropolitan modern apartments.

Our apartments are very convenient for investment as they are at the highest quality in terms of the materials used and they are all delivered to the owners at the planned date. Also as we know the needs of our customers, uninterrupted generators, 3 elevators, large water tanks, clubhouses, common terraces, fitness centers, 7/24 security system are the other significant elements of our projects.
If you'd like to have more info, you may leave your phone number and it'd be a pleasure for us to call you back soon.
[contact-form-7 id="1521″ title="Contact Collection"]