When it comes to cleaning your apartment, it's all about dividing and conquering.
When you're home all day, keeping your living space clean and clutter-free can feel more of a priority than ever. But staying on top of household chores can quickly become overwhelming if you don't have a strategy for success in place. Before you put off cleaning for yet another month, here are some ways to make housework a comfortable and even enjoyable part of your daily routine.
Start Small
If you begin and end each day with a little picking up, you'll never get swamped with housework again. Keeping a clean apartment begins with good habits like making your bed every morning and cleaning the dishes while you cook. Nobody wants to navigate through a minefield of yesterday's mess to make coffee, so never allow yourself to fall asleep with dirty dishes or a disheveled living room.
Before you start work in the morning, take one to two minutes to tidy up. That way, you can look forward to ending your workday with a clean and stress-free home.
Enjoy yourself
Even the most reviled of household chores can be enjoyable if you have some headphones or a portable speaker. Genuinely cleaning the house is a hidden source of me-time that you will eventually learn to love.
For example, if you hate vacuuming, listen to an energetic playlist of your favorite songs. If you haven't had much time to read lately, listen to audiobooks and podcasts while you do the dishes.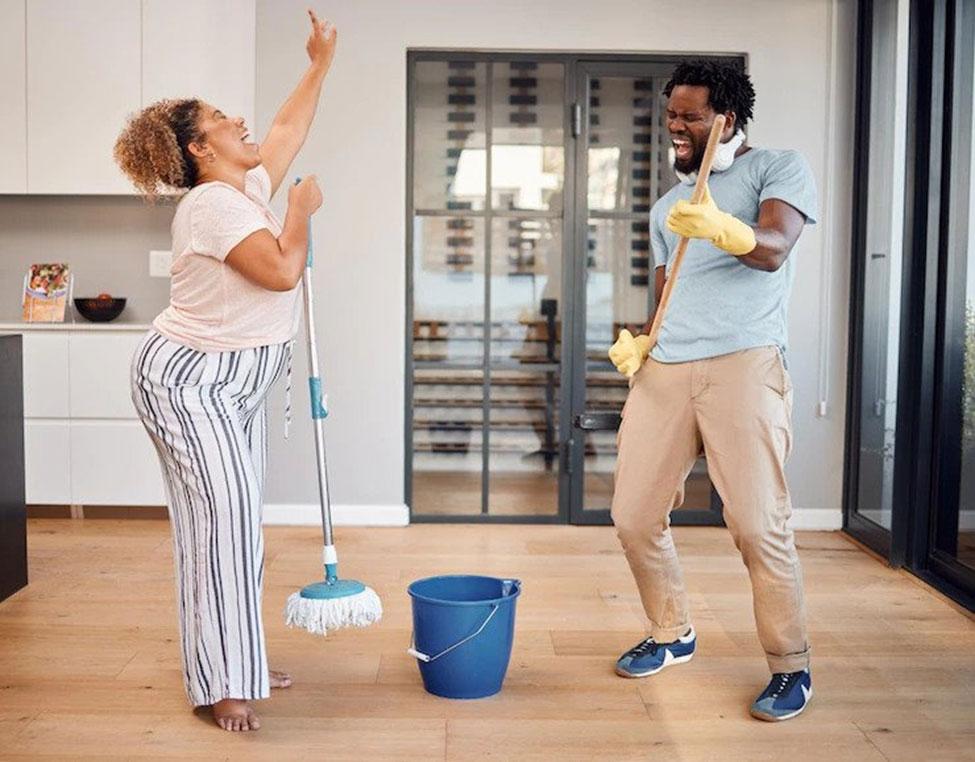 Simplify your Chore List
Rather than making a never-ending list of unattainable projects, break it up into manageable, bite-sized pieces.
Get a blank sheet of paper and make four columns: daily, weekly, monthly and yearly. Everyday chores like making the bed, picking up the apartment and doing the dishes can go in the daily column. Chores like vacuuming and dusting can go in either the weekly or monthly column, depending on what's realistic for your lifestyle. Reserve the yearly column for big projects like cleaning the oven and washing the carpet.
Even if you fall behind on your chore list, seeing it all laid out on one page will reduce your anxiety and make procrastination a thing of the past.
Aim for Finished, not Perfect
Nobody will go over your cleaning job with a fine-tooth comb, so don't bother sweating the small stuff. The goal is to make cleaning an attainable habit that fits in nicely with your busy lifestyle; worrying about not doing a good enough job will only make you procrastinate more.
Another problem is biting off more than you can chew. If mopping the whole apartment at once seems too daunting a task for one afternoon, settle for the kitchen floor for now. You can always move on to another room if you feel the urge.
BOTTOM LINE
Let us connect today, on Metropolitan Real estate, which has multiple ongoing projects such as The Metropolitan Tower at Bole Rwanda in front of Mamokacha cafe. Metropolitan Central Tower Luxury Apartments are around AU headquarters. Metropolitan Westview Standard Apartments is located at Total Soset Kuter Mazoriya and The Metropolitan Residence is located around Bole Main Road, In front of Mega Building. Contact us with the Ethiopian office: +251973404040 and the USA office: +1480 280 2242.
SOURCE – ZILLOW